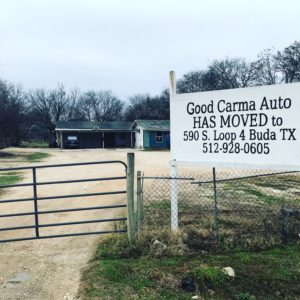 We've moved and we're growing! Thanks to you, our amazing customers, we need more space! So we've packed up shop and moved down to Buda into a larger shoppe space. Don't fret, it's only around 5 miles from the Manchaca location. We love it and know you will too. Come visit us at the new location and check out the new digs:
590 South Loop 4 Buda, TX 78610
Thanks again and see you soon!
Love,
Good Carma Automotive