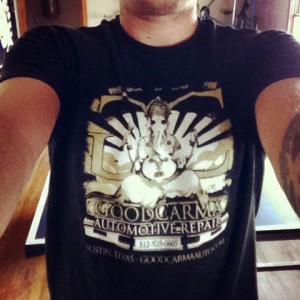 They're here!
The latest and greatest in apparel fantabulousness! The new Good Carma Automotive Ganesh Rockstar T-Shirt! What's so rockstar about it? Well, I'll tell you…
First off, we are grateful to have such a talented artist, one Mr. Christopher Klinck, whip up such an eye-popping design for us. The guy has an incredible knack for slinging together amazing designs… Like a fox. Thanks, Klinck.
Secondly, these shirts are ultra-soft and comfy. We ordered the good tri-blend super nice shirts to print on because we want you to wear them. And they're stylish and classy. White and gold? It doesn't get classier.
Finally, we printed these ourselves at the shop… and had a blast doing it. Hand printed swag from the same garage where your car gets worked on? There has to be some kind of mega car-healing energy to that. In fact, you should wear the shirt while driving around. Your vehicle will love it.
Right now, the shirts are on sale at the shop only. We are looking into making them available to purchase online as well, so check back often. Get one today for $15.00 ($10.00 when you get some work done). Represent your Local Auto Shop! Wear your GCA gear today! Thank you. Thank you. Thank you.
Sizes (Adult): Small, Medium, Large, and XL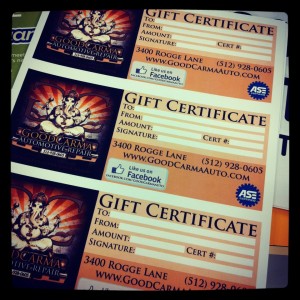 Need Gift Ideas?
Give the gift of a great running car. We just printed off a batch of Good Carma Automotive gift certificates just in time for the holidays. Purchase them for any amount and give them away (or gift yourself for a later repair). Have a family member that needs some auto work done? Get them a Gift Certificate today. And because our prices are extremely competitive with any other shop in town, your money goes farther. You get ASE Certified repairs on your vehicle for way less than the other guys and you keep it local.
Stop by or give us a call today to get your Gift Certificate.
3400 Rogge Lane ATX 78723
512-928-0605